A while ago I had a whim to purchase colored contacts and bought the FreshLook ColorBlends in Sterling Gray. I've been a daily wearer of contacts for the past six years, and have only owned a pair of colored contacts in my life before. That was a brand I had purchased from a local distributor of contacts[1], in brown. Recently, I have been wanting to get a pair of grey contacts, just to switch up the looks a little bit. The most popular, and trusted brand which I have been following for years now, is FreshLook.
FreshLook's ColorBlends contacts are some of the industry's best and most trusted contact lenses. From the ease of use, comfort and realistic appearance when it is applied, it is easily one of the most recognizable names to purchase from. Their range of contact lenses retails for $40-$55 for a box of 6 contacts (or 3 pairs). FreshLook contacts combines 3-in-1 technology in which each of their contact lens combines three different shades to give it the most realistic appearance when applied over the eyes. The shade Honey is apparently very similar to the one worn by Edward Cullen on the Twilight series[2].
When I was making my decision, I had thought about purchasing the really popular Circle Lenses[3]. While I have nothing against Circle Lenses, having read and heard a lot about the dangers of its use made me a little hesitant about wasting my money on them. I understand that circle lenses tended to be a lot cheaper, I didn't want to worsen or damage my eyes in any way. My rationale is that, I only have one pair of eyes, and risking them to save $30 is hardly a good decision.
Some of the most important criteria in making my decision included:
Price – $30-60/box of 6 pairs
Comfort – easy for my eyes to get the oxygen
Whether or not it looked realistic
Making sure that my eyes appear different in a subtle way
I have dark brown eyes and the contact lens I've previously worn hardly changed the colors of my eyes (if at all). As a result, I am more careful about ensuring that the contact lens will actually work. I did a lot of research before settling on FreshLook. One of the main reasons for selecting this brand is also because it is manufactured by CIBA Vision, a trusted, and well-established manufacturer of contact lenses. I am currently using a CIBA-manufactured contact lenses on a daily basis called AirOptix[4].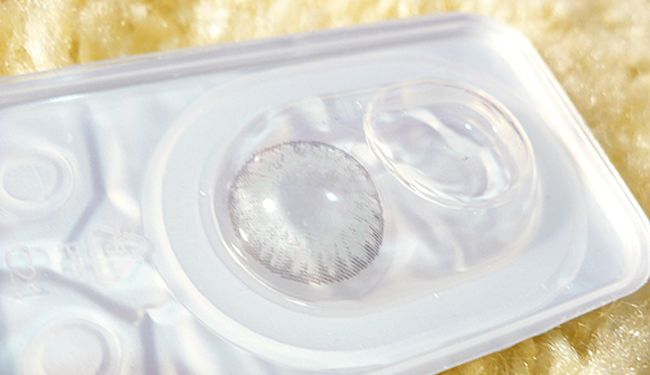 Wear, Comfort, and Effectiveness
I chose to purchase the shade Sterling Grey. With 12 different shades to choose from, it was definitely a very hard decision overall. I had a hard time selecting between Sterling Grey and just the plain old grey, but based on several reviews, the Sterling Grey has a more blue-ish tinge to it which makes it more visible over darker eye colors. If I had a lighter eye color, I would probably have settled for Grey.
As for the wear, it is fairly comfortable to wear for 5-8 hours. I wear my lenses for 8-12 hours on a daily basis for 5 days a week. While I realize that I wear contacts for beyond the recommended time, I do not wear my contacts as often on the weekend, and usually substitute with glasses on Fridays. I didn't need to use any more eye drops than I typically use, and didn't feel any drying or discomfort at all. Overall, I was very pleased with the quality of these contacts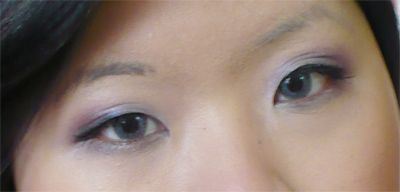 The appearance is startlingly realistic – my parents could hardly tell when they are standing at a good distance. It is the sort of subtle change that makes people say "Something about you looks different, but I don't know what it is". Here is a picture of me wearing with the contacts and the second picture shows the contacts close up. Looking really close into my eyes, it looks a lot more blue than grey, but from a normal standing distance, the darker color of my eyes lessens the intensity of the blue.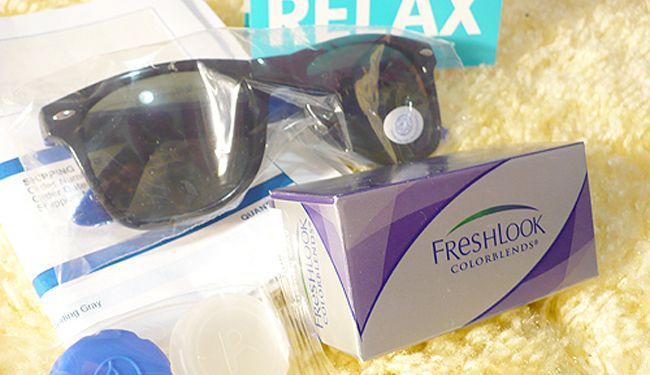 I purchased my contacts from ClearlyContacts for $55 including taxes, and shipping/handling in Canada. I have had several great experiences purchasing from the company and was thrilled to see that their contacts are also on sale at the time of my purchase. I loved that Clearly Contacts threw in a free pair of sunglasses and contact lens cases – they really go a long way to make their customers happy! This brand is also widely available at various opticians.
As always, shipping from ClearlyContacts was lighting fast – the trip from Vancouver to Ontario took ONE DAY, considering that they also had to order from CIBA. They kept me updated throughout the process (they sent me two emails informing me that they have to place the order with CIBA) and I was so surprised that it took less than a day to ship to my house. Contact lens ship for free from the website if you use the code FREESHIP
Value for Your Money
Each pair is supposed to be worn for 1 month at maximum. I don't wear my color contacts on a daily basis so I feel justified for wearing it until the 3-months mark (or if I've worn it for 30-days) as long as I clean it well. I think the three pairs are going to last me quite some time which makes the $55 I paid very worth it. FreshLook has tons of other colors you can try and I wish we could mix and match as I'd love to try some of the other colors. I'm happy with my purchase and definitely recommend FreshLooks for quality, value and overall effectiveness of wear!
Details
Parameters: Base Curve 8.6 – Median. Diameter 14.5
Manufacturer: CIBA VISION
Packaging: 6 lenses per box
Where to Buy: ClearlyContacts, local opticians $55/box (Free shipping with code FREESHIP)
0
0